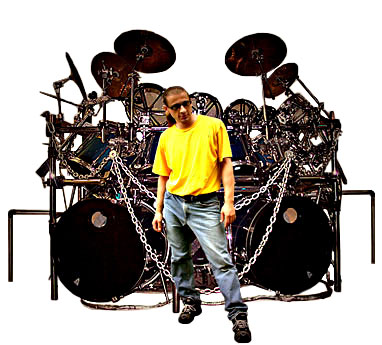 PASHA is a drum solo artist who is practicing semi-rhythmic and harmonic drumming techniques. He is also one of a few drummers who is developing new hardware parts for drums and drum pedals.
Pasha (full name Pavel Yashchuk) began his musical journey in Moscow, at a private, experimental school of music where he studied percussive instruments. He graduated in 1992 and went on to play live in different pop, rock, and blues bands around the world to further master his drumming skills.
Pasha always attempted to combine solo drumming and an existing melodic harmony into a single, vast, rhythmically intense musical composition. This eventually led him to the need to develop new drum techniques that allowed him to perform solo while maintaining a non-stop rhythm section.
Floating Feet as he calls it, is one of Pasha's original additions. Together with reworked body balance and a custom-designed hardware for drum pedals he is able to perform complex rhythm patterns utilizing different drums with his feet alone.
His unique approach to body balance enables feet to move freely from one pedal to another even at a very high speed.
Drum pedal system that he designed for the Floating Feet technique, makes it possible to execute the needed precision, dynamics and to reach and play more than one drum pedal with a single foot.
Pasha prefers to use his foot techniques to create a sophisticated rhythmic "base" for his solos, which are usually performed using different types of sticks / brushes.
He executes his solos on the upper side of the kit on toms, floor toms, roto toms, etc at an enormously fast speed. The speed enables him to create the illusion of playing musical phrases using "long notes."
By combining such phrases, Pasha is able to play more advanced, rhythmically melodic etudes on drums.
"Pilot 502 - Advanced Polyrhythmic Drumming" is a demonstration of foot and solo techniques that allow drummer to play melodies and harmonies while maintaining a non stop rhythm section.