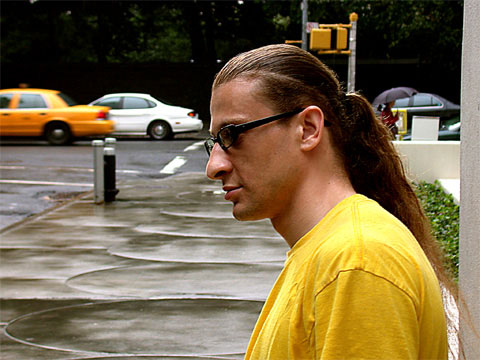 Where did you learn music?
I studied percussive instruments at a very small and experimental school in Moscow, where I learned the basics of the subject - basics in a broad sense, so I would say I became almost a professional there. I've developed my skills on my own since then.
How long have you been playing the drums?
I've been playing drums almost all of my life. I started drumming when I was 14 years old, and I started soloing at the age of 25.
What other instruments do you play?
I would not classify it as "advanced playing" but I can find my way around a piano, guitar and bass...
Why did you become a musician?
I didn't have any other choice! I cannot live without it, I love it more than anything else, it is the best way I can express myself, AND nobody else out there can do what I can, and I will prove it on my next record!
So what exactly do you do?
It's called semi-rhythmic drumming. Some people also call it polyrhythmic drumming. It is an advanced technique used by some drummers for executing two or more rhythms, or rhythm and solo(s), or two or more solos simultaneously.
Usually, if at all, semi-rhythmical drumming is used for enhancements of drum solo acts, and I do that too, but that's not the direction I am currently exploring.
In the drum solo project I am working on, I will use a new semi-rhythmic drumming technique that I call "Floating Feet."
This technique allows me to play more than two drum pedals with one foot. With that alone, I am able to create a complex rhythm section using double bass, two snare drums, hi hats, and a cowbell to rhythmically accompany instruments like bass, guitar, string section, and keyboards, while simultaneously play a "duet solo" with one of them on toms, floor toms, roto toms, snares, cymbals, and/or percussion using sticks and brushes.
So that is what I do.
I use semi-rhythmic drumming techniques to accompany and simultaneously solo within musical compositions.
What music do you enjoy?
Classical: Tchaikovsky is one of my favorites, also Vivaldi and Bach, to name a few. I also like to listen to Cher, Celine Dion, Mariah Carey, Stratovarius, early Def Leppard, Motley Crue, Cure and that's about it.
I'm very picky when it comes to music. For me to like it, music has to have a very strong rhythmic base, very high recording quality (where every breath can be heard), and great performance/musicians recorded on the album, not to mention a great composition.
What's on the CD player right now?
Same thing that's been there for over three months - Mozart's Requiem.
Favorite food?
Music!
Favorite drug?
Music!