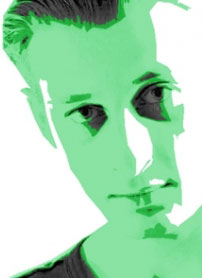 Anything rhythmic gets me going, and by anything, I really mean anything, from dance/trance tunes to rock and metal. If it has a strong rhythmic base, it will inspire me!
"New York drummer Pavel Yashchuk, (otherwise known as PASHA), has created somewhat of a monster.

Having honed his craft behind the kit, Pasha has now introduced to the world to what can only be described as the most innovative website for drummers. Designed specifically for musicians, Drumsoloartist.com offers a very unique concept in networking."
Pasha what is Drumsoloartist.com and how did you get it started?
DrumSoloArtist.com is a drummer's community devoted to helping and promoting drummers. Users can interact with each other, help with tips, learn new drumming techniques and have fun doing it!
How can a drummer fully utilize drumsoloartist.com?
Drum Solo Artist is so big it is hard to say "what is the best way to utilize the site", really DSA is divided in to four major parts:
Drum Live is the community section, where drummers are welcome to create profiles, share pics, blogs, get in contact with other drummers, etc.
Drum Forum is the "discussions" part of the site where drummers discuss almost anything out there, from drumming tips to recording techniques.
Drum Wiki is a huge resource of Drum Related articles ranging from basic ones like "What is a drum and what is it made of?" to explanations of the most advanced drumming techniques today like "Polyrhythmic drumming", "Symmetric drumming", "Harmonic drumming" etc.
Drum Store is a section where we help drummers sell their recorded material.
There are other smaller, yet still very useful and fun "sections" on Drum Solo Artist, like the drum solos section, where users can actually add their solo to the list, rate other users solos, etc. Just visit the site and discover everything it has to offer!
Where did you study in Russia?
I studied in a small, private school in Moscow.
What brought you to North America?
Music brought me to America. That is the only thing really, the funny part is that currently I have a small tour (around thirty shows) lined up in Eastern Europe, so it looks like music will take me back to Russia too! Well at least for the time of the tour. I am expecting to be back in late April.
What types of music inspire your creations behind the kit?
I don't divide music in to types or styles. As far as "What inspires me the most" - anything rhythmic gets me going, and by anything, I really mean anything, from dance/trance tunes to rock and metal. If it has a strong rhythmic base, it will inspire me!
How viable is the metal/hard rock scene for a "working" drummer these days?
Well it really depends on which band you currently play for! I mean many Metal or Hard Rock drummers can argue that there is not a lot of paying jobs available and that today, a hard rock drummer will not do fine, but that opinion will certainly change if one will get a job in lets say Motley Crue, or Megadeth!
I understand you are developing new hardware parts for drums and pedals. Can you give us any insight into what you have come up with?
(laughing) I don't actually develop hardware parts on a "regular" basis; I do invent drum set and hardware parts whenever I need a specialty piece, something that is not currently available on the market. Nevertheless from what I see, most of the "ideas" that I have developed and shown to some drummers have been implemented by major drum set and electronic manufacturing companies a few years later, and without any references of "where the idea has really came from".
Examples of the most popular developments that has been implemented are the Stereo Isolation Headphones (Currently manufactured by Vic Firth) and the Middle Snare Pedals (Currently manufactured by Sonor, they call them Giant Step Pedals Middle Pedal). And although I would love to discuss some of my current hardware developments with the readers of The Black Page Magazine, I can't, because the copyright papers for those developments are not ready yet.
You have a very interesting setup, take me through your current kit configuration.
The set is based on a "regular" 11 piece setup (by regular I mean common configuration) which include:
6, 8, 10, 12, 13, 14 inch toms, 16, 18 inch floor toms. I do have a 20x20 inch tom that sits right after the 18 incher, I use for major acts (or when ever there are no problems with roadies and their quantity). Two 22x22 inch kicks, three snares: the main (center snare) is a steel 14x6, the "side snare" (mounted on the left above the toms is a 13x3 and is also a steel one). The snare number 3 is actually a hand made by yours truly, marching snare drum; it is located between the kick drums and is facing the same direction. This snare was designed to be played with feet only, which is executed by the means of my double-snare pedals.
I am using the 6x10, 6x12, 6x14, 6x16 octobans, they are located from the left side, beneath the high toms, I also have 2 other drums that are located on the left and the right sides of the center snare they are a custom 6x4 octoban and a 6x4 tom - both are designed for the extra high pitch sounds.
Roto-Tom Set is a standard 4 piece set of Remo Roto-toms (6, 8, 10 and 12 inch) and they sit above the center toms.
I have a bunch of cowbells throughout the set, the main "set" is located on the right side and is the Set of LP Granite Blocks, another notable one is a Jam Block - the blue one, and that one is connected to a right side pedal.
Pedals:
2 kick
1 double-snare pedal
1 cowbell (located on the right side)
1 Hi Hat (hat is located on the left side, and is played via pedal only, not accessible for hands)
1 Hi Hat (hat is located on the left side, and is played via pedal, but is also accessible for hands)
Cymbals:
Hi Hats #1 (played via pedal - left side)
Hi Hats #2 (hands & pedal - left side)
Splash 12'
High Crash 16'
Medium Crash 16'
Splash 14'
Hi Hats #3 (No pedals, hands only - right side)
Ride/Crash 14'
China Trash 12'
China Trash 16'
Ride 22'
What got you interested in the semi rhythmic and the melodic side of playing?
Terry Bozzio! Just kidding. I mean, Terry, among other drummers did influence me a lot, but his playing was not enough for me to get started.
The idea came while practicing with one of my x-bands. I was trying to perform quite a long (15 - 20 second) melodic solo during one of the verses of a hard rock song. And while that did not sound bad at all, the problem that we have encountered was that the verse was loosing the essential "beat".
So one of the band members suggested that I could solve the problem if I would be able to play the solo while simultaneously continuing performing the groove of the verse.
And I thought "Why not?" - I can play the groove of the beat with my feet, while soloing on top of it on the toms! - Yeah, that what got the whole idea going!
Getting back to drumsoloartist.com, how much interest have you had from the drumming community and what has been the response?
The interest and the response has been great! Drum Solo Artist has already been featured by The Black Page Magazine and the Modern Drummer magazine; users seem to love the site.
One of the users has brought the idea in, and, fully sponsored the 2007 Drum Solo Competition for example. All that makes it obvious that the response is great.
I think more publicity will make Drum Solo Artist even more popular, which in return will benefit the community.
How can our readers sign up to become a member of drumsoloartist.com?
That is easy; just visit http://drumsoloartist.com to create your account. It is free, easy, fun and beneficial! What else can a drummer ask for?
What do you have coming up in 2008?
Currently I am preparing for the tour in Europe, and working on my own album, which should be ready by the middle of 2008.